Our History
Founded in 1855, The Six Mile Pub & Eatery is British Columbia's oldest pub. Read on to learn a little more about our history.
Weary travelers have stopped at the pub for more than a century to rest and quench a thirst before going on their way.
The Six Mile Story begins in 1848 with millwright John Fenton, who built a saw-mill on the site owned by the Hudson Bay Company The first lumber sawn was used in a barn at the North Dairy Farm. It was also from here that the first export of lumber went to California. It consisted of 8,000 board feet and the price was $80 per 1000 board feet.
The following year Fenton was lured to California by tales of gold. Bill Parsons, formerly a London Bobby (Parson as he was called) replaced Fenton and he built a bridge over Millstream which in the 1863 gold rush provided access to the Sooke and Leech River areas. He also completed a 40 by 60 ft. grist mill and operated it until the winter of 1854/55 when a flash flood damaged the mill beyond economical repair.
In 1855, Parsons bought 40 acres of land from the Hudson Bay Company and built Parsons Bridge Hotel. The Parsons ran the rambling wooden hotel with its perimeter veranda for a number of years. It apparently opened in 1855 but Parsons didn't purchase his "country retail license" until the next year (perhaps encouraged to do so after paying a fine of two pounds 10). This made official what is the oldest pub in B.C. still operating today.
The hotel became a handy port of call for British sailors who filled the ships' water barrels at the mouth of Mill-stream. The tap room rang with laughter and shouts of British tars from Esquimalt naval base established in 1864; there is talk it used to be the headquarters for rum-running at a later date. The Six Mile was the hub of the small community and was used as a postal address by those close by when the stage coaches began to run in the 1880's.
Roadhouses, as they were called and hence the name Six Mile House, were dropping off points for the mail as coaches brought it the six miles from town.
About the turn of the century there was a fire at the Six Mile House and the present square two story section was built as an addition to the original structure. This new section was finished with tongue and groove and a balcony ran about the second story.
No one knows how many times the "House" has changed hands but one of the most colourful was surely Jim Price who owned it during the prohibition which darkened the halls of B.C.'s bars. Though officially closed, the hotel continued to be a meeting place for many locals, who met to talk politics and drink. During prohibition bootlegging was a popular sport and Six Mile House was an arena. Price also had a scheme to raise trout in Millstream, so he built a dam and stocked it. Three or four days of heavy rains washed his plans, his dam and his baby trout all out to sea.
Before Six Mile House was reopened as a pub after prohibition in about 1924, there was a major fixing-up. The interior and exterior were both redone, down to a nice red carpet on the "ladies" side – The large windows were added to the "ladies" side a few years later. Liquor laws at that time were very strict. They forbade food in bars, made sitting while drinking a firm rule, and made beer the pub's sole offering. The fact that neighbouring municipalities including Victoria was still 'dry' contributed to good business for the Six Mile for many years. Plebiscites were held after prohibition but Esquimalt was the only area to bring back licensed establishments. Victoria stayed 'dry' until 1952. Jim Price retired from Six Mile House in 1931 and sold it to the founder of Silver Springs Brewery.
During the war, beer was rationed and waiters were Kings. They paid for the beer at the bar, then sold it at the tables with the best tippers. Pubs opened at staggered hours and went until the beer ran out. Competition for the foamy brew was stiff and waiters served the most lucrative tables. After the war, things boomed locally which might explain the next glut of buying and selling. Before 1950 the Six Mile changed hands five more times.
During all this time the Six Mile continued to be a "neighbourhood" pub. Wednesday afternoons were especially busy as Victoria stores closed then.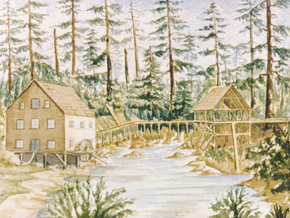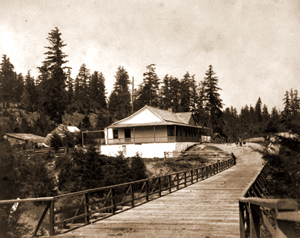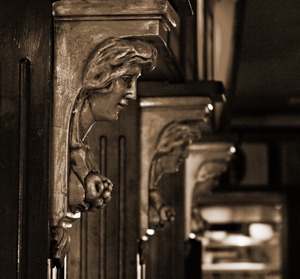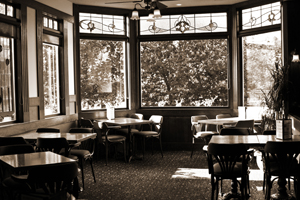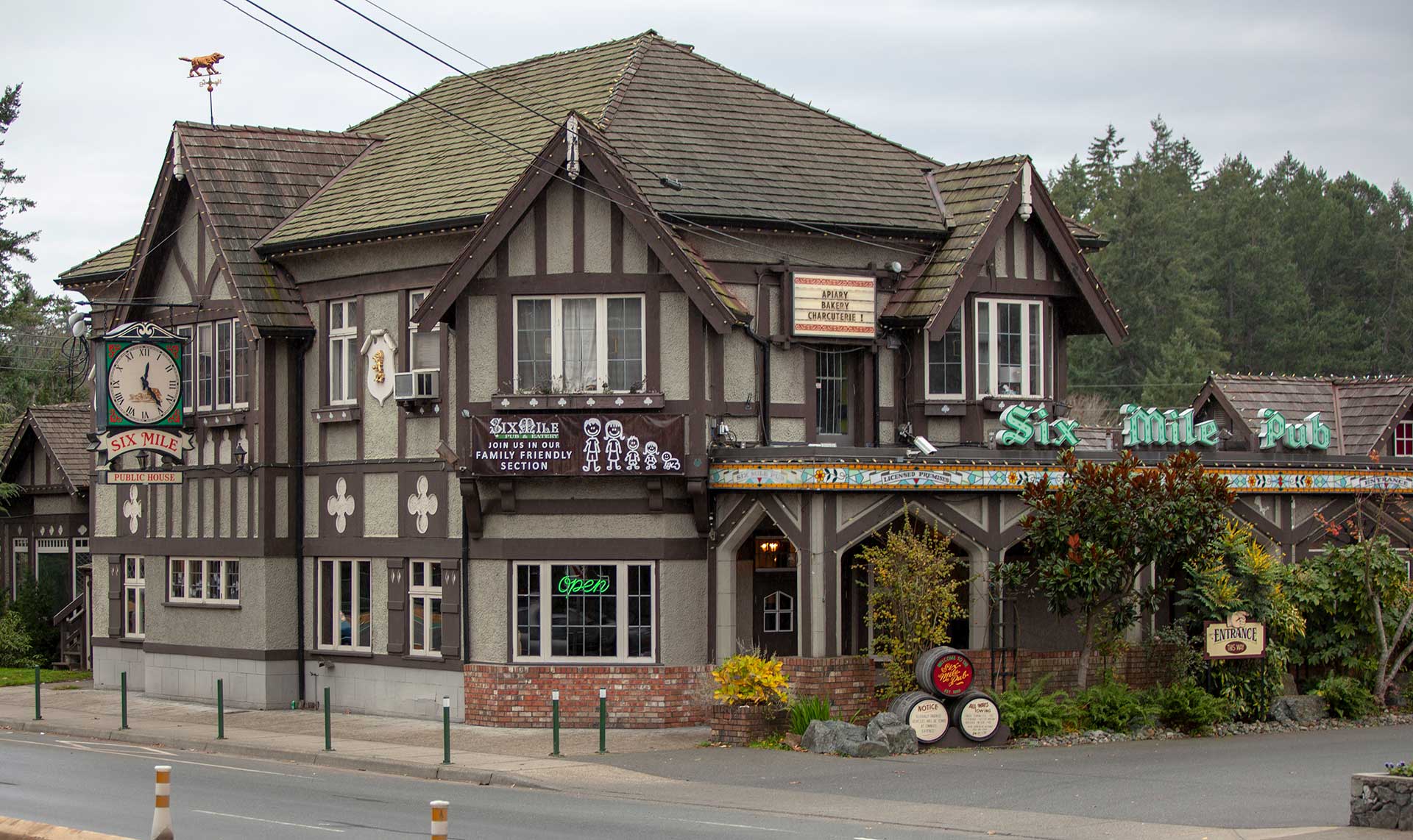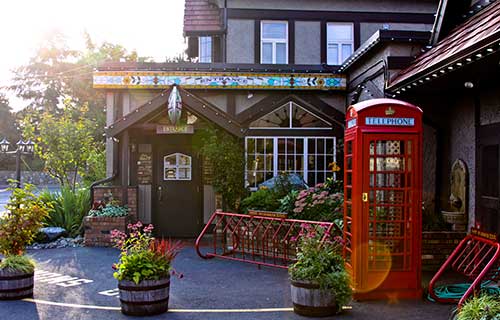 Oldest Pub in BC Continues Tradition as a Pioneer of Community
In 2002, the Pub was purchased by the current owners who spared no expense restoring her to her former glory and to continue her tradition as a pioneer, and the heart of this close-knit community. As the "Living Room" and the "Dining Room" of the community, the Six Mile Pub has her reputation firmly rooted in the quality of her products and services.
This level of excellence is achieved through pioneering efforts in farming a Riverside Organic Culinary Garden which provides most of the fresh 'herbs and some of the vegetables used in the kitchen. Menu items are handmade from scratch using whole ingredients that are raised or cultivated as close to home as is possible and practical. Proteins are selected from hormone free and antibiotic free animals and seafood is sourced from ocean-wise suppliers. Even her coffee comes from the wild – harvested in "frog-friendly" conditions from the jungles of Mexico. Because menu items are prepared on-site and with whole ingredients, the culinary team is also able to adapt recipes easily to accommodate special dietary needs.
Complementing this remarkable menu is an extensive list of craft brews from local artisan brewers such as Phillips Brewing Company, Hoyne Brewing Company, Driftwood Brewing Company, Lighthouse Brewing Company and, of course, our Six Mile Lager, brewed for us by Russell Brewing Company, a BC brewery that specializes in making small batch unpasteurized "Real Beer" with natural ingredients.
The grand Six Mile Pub has certainly played her part in the history of the west coast and those who have watched over her the last century feel she is set for at least another 100 years. Walk, bike, drive or paddle to the Six Mile Pub – she will delight you.

"A fabulous gem that is a foodie-worthy restaurant.  It looks like a pub, atmosphere feels like a pub, but the care and ingredients that go into the menus certainly don't taste like your usual pub fare...Go and enjoy."
Heather P

"My go-to place for fish and chips"
"Wow.  Came here for the gluten-free fish and chips on a recommendation of a friend.  Gluten-free or not, the fish and chips here were pretty awesome, as in, definitely my go-to place for fish and chips. "
Julian B

"Love it here!  Big English style pub with darts and pool...great food (including gluten-free options) and great selection of beers.  Nice outside patio too.  Favourite pub in Victoria (and I'm very picky as an Englishman!)"
Nick M

"Shepard's pie was epic!"
"Handsome, spacious heritage building serving friendly refined twists on pub favourites with eco-friendly ingredients.  Fantastic drinks and cocktails.  Gluten-free friendly.  The shepard's pie was epic!"
Adrian U
We are open for Safe Indoor Dining, Take-Out & Delivery during these hours.
Our Riverside Patio is open for seating between mid-Spring and mid-Fall.
MON - THURS
11:00am - 9:00pm
FRI & SAT
11:00am – 10:00pm

BRUNCH
Sat & Sun 11am - 2pm
HAPPY HOUR
Daily 3pm - 6pm
Please follow us on Facebook / Instagram for the most updated hours as we adjust in response to Provincial Health Restrictions. Thank you for your Support and Understanding.
Contact Us
494 Old Island Hwy at Six Mile Rd
Victoria, B.C. Canada V9B 1H5
Phone: (250) 478-3121
Email:  info@6milepub.com
Drop Us a Line
Let us know if you have any questions!